As playoffs approach (this saturday! yuh!!)I thought it'd be a good idea to inform all of you that you better be ready to watch the Nuggets make their first championship run in franchise history:
1. Best starting 5 in the league:
PG: Chauncey - a sage veteran, excellent leader and floor general. Ability to drive and draw fouls, and with a free throw percentage of 90+, it's pretty much automatic. Also an uncanny ability to make the clutchest shots.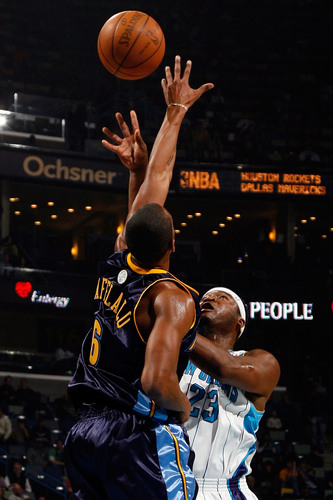 SG: Afflalo - SHUT DOWN DEFENDER, you can put him on any guard and afflalo will stop him. Also can hit the open 3 like it's nobody's business.
SF: Carmelo Anthony - Enough said. He is the most dominant scorer in the league. He can score in every fashion. He can hit the jumper, hit the 3, post up, drive, draw fouls, and hit free throws. Pick your poison. And he's even more dangerous this season because he has turned into a willing passer, so your double team won't work anymore either.
PF: Kenyon Martin - A walking double double and a criminally underrated defender. K-mart can honestly guard any position whether it be the 1 or 5 and he can guard them -well-.
C: Nene - One of the quickest, if not THE quickest, centers in the league. This guy is automatic from the post with his quick speed and also leads all centers in steals. Nene is an all-star body with an unwilling mind for some reason, hopefully he wakes up soon.
2. Best bench in the league: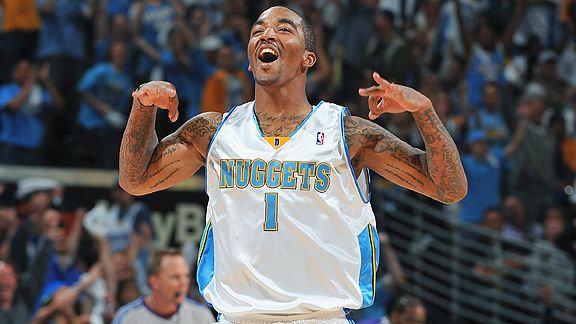 J.R. Smith - Once he gets started, you can't stop him. An athletic scoring machine with a hand that can get hot at any moment and unlimited range. This guy is just built to score in bunches, quickly.
Ty Lawson - The Human Blur, possibly the fastest player in the NBA. Even the notoriously arrogant Allen Iverson said himself that Lawson was the fastest. A young, upsided point guard with the best possible mentor: Smooth himself, Chauncey Billups.
Chris 'The Birdman' Anderson - Along with the previous two, he provides a spark off the bench with his explosive shot blocking ability and his knack to throw down alley oops when combined with Lawson. Last year he had the highest blocks per minute in the LEAGUE. Yes, even higher than Superman himself.
3. Passion:
After getting knocked out the first round of playoffs for the better part of a decade and finally having a taste of victory with last year's Western Conference Finals, you can bet that the Nuggets are hungry for that golden basketball. Combine that with some sketchy officiating by the NBA and the public media downplaying the Nuggets' talent and you sure get some fire in their bellies real quick. And to add on to that? Veterans like K-mart and CB1 trying to win a championship before they retire for good and a cancer stricken coach (get better soon, George)? This championship run would warrant a movie for sure.
Come playoff time, keep your eye on the Nugs because before you know it, they'll be killing Orlando in the Finals for the first championship in franchise history. I can already taste it.